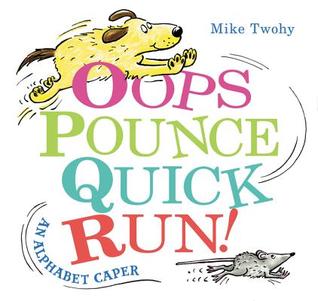 Oops, Pounce, Quick, Run! An Alphabet Caper. Mike Twohy. 2016. 32 pages. [Source: Library]
First sentence:
Aleep
Ball
Catch
Dog
Eye
Feet
Grrrr
Help!
I'll chase!
Jump
Kitchen
Living Room
Premise/plot: Oops, Pounce, Quick, Run! is an alphabet caper by Mike Twohy. Without using a single complete sentence, Twohy packs adventure and drama into his story. It stars a dog and a mouse.
My thoughts: I really enjoyed Stop, Go, Yes, No! A Story Of Opposites. So I decided to read the first book, Oops, Pounce, Quick, Run! Both books star this lovable dog. I really LOVED both books. They are great fun. They are good for pre-readers, early readers, and readers of all ages.
Text: 5 out of 5
Illustrations: 4 out of 5
Total: 9 out of 10
© 2018 Becky Laney of
Young Readers