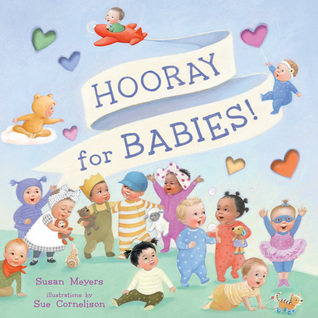 Hooray for Babies! Susan Meyers. Illustrated by Sue Cornelison. 2019. Houghton Mifflin Harcourt. 32 pages. [Source: Review copy]
First sentence: I'm glad that I'm a baby. I love my baby face. Two eyes, two ears, one mouth, one nose, each in the perfect place. I love my tickly baby toes, my fingers big and little. I love my baby belly. There's a button in the middle!
Premise/plot: Hooray for Babies is a rhyming picture book celebrating BABIES.
My thoughts: If you find babies irresistible, then you might love this book. The illustrations are cute, sweet, adorable, precious, delightful, lovely--the expected bunch of adjectives that like to hang around together in books for this age group. Some people love and adore cutey-cute books. Some people don't. There is much to love in this one. The illustrations. The cutesy text. (To name just two.) I personally liked this one. The pages showing off belly buttons is a special favorite of mine.
We're babies making baby friends.
We love to play together.
We take our turns.
We share our toys.
At least until we don't.
Text: 4 out of 5
Illustrations: 5 out of 5
Total: 9 out of 10
© 2019 Becky Laney of
Young Readers