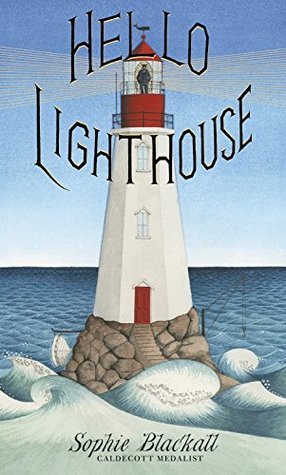 Hello Lighthouse. Sophie Blackall. 2018. Little, Brown for Young Readers. 44 pages. [Source: Library]
First sentence: On the highest rock of a tiny island at the edge of the world stands a lighthouse. It is built to last forever. Sending its light out to sea, guiding the ships on their way. From dusk to dawn, the lighthouse beams. Hello!... Hello! Hello, Lighthouse!
Premise/plot: Hello Lighthouse imagines what it might have been to be light keeper and live in a lighthouse. The picture book opens with the 'new' keeper arriving and closes with his retirement--he has been replaced by a machine. In between times there is a lot of living--ups, downs, highs, lows.
My thoughts: Hello Lighthouse won the Caldecott Medal in 2019. I checked it out because it won. I'm not sure I would have sought out a picture book specifically about lighthouses if it hadn't won. But I am glad I did. What did I think of the text? the story? What did I think of the illustrations?
I'm honestly not sure what I think of the story. I think it was realistic in depicting the hardships. The more you think about it the more emotionally complex the story becomes--what it says, what it doesn't say. How did he feel about being replaced by a machine? Was he sad to go? Was he happy to go? Was he going to miss the lifestyle? How did his wife and daughter feel? Are readers supposed to be sad with the ending? Is it supposed to feel oh-so-bittersweet?
Is this a picture book for young readers or older readers? What is the right age for this book? It is on the text heavy side and as I mentioned before it offers some complexity to it. I am leaning towards thinking this one is for older readers.
As for the text itself, at times it felt poetic.
I do know what I think of the illustrations. I loved them. I thought they were beautiful.
One more thing. I read a library copy and was SAD, SAD, SUPER SAD to see that so much of the author's note--"about lighthouses" was hidden and covered up. This could have been avoided if only the author's note was not printed on the end pages itself.
Text: 4 out of 5
Illustrations: 5 out of 5
Total: 9 out of 10
© 2019 Becky Laney of
Young Readers