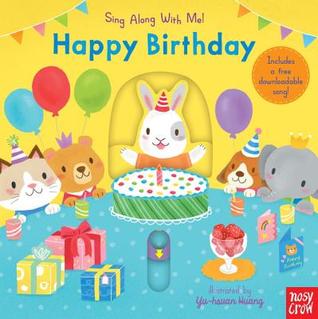 Happy Birthday (Sing Along with Me) Yu-Husan Huang. 2017. Candlewick. 10 pages. [Source: Review copy]
First sentence: Happy birthday to you!
Premise/plot: What you should know about this book: a) It's a board book; b) it's an interactive board book; c) there is at least one interactive element per spread (and the cover is even interactive); d) it features the words of the traditional song; e) includes a downloadable song.
My thoughts: This is a sturdy board book. I like the interactive elements. I really like that the interactive elements look durable and work easily. I have reviewed interactive books in the past that were not durable at all, or that were difficult to maneuver. If it's tricky for adults to work, then little ones surely will have trouble as well. The animals in this one are cute.
© 2017 Becky Laney of
Young Readers