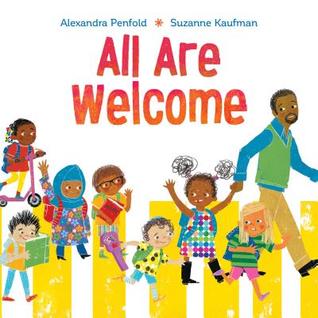 All are Welcome. Alexandra Penfold. Illustrated by Suzanne Kaufman. 2018. 44 pages. [Source: Library]
First sentence: Pencils sharpened in their case. Bells are ringing, let's make haste. School's beginning, dreams to chase. All are welcome here. No matter how you start your day. What you wear when you play. Or if you come from far away. All are welcome here. In our classroom safe and sound. Fears are lost and hope is found. Raise your hand, we'll go around. All are welcome here.
Premise/plot: All are welcome at school. This picture book is written in verse. The first half seems to focus more on the school day. The second half seems to expand the focus and become more agenda-driven. When a book's message is especially well-received, readers--critics--praise it. Otherwise message-driven books are called didactic.
The book is a good reminder that all books--even picture books--have a world view.
My thoughts: Do we really need a picture book affirming that all are welcome at school?! Maybe, maybe not. I haven't decided yet.
From a literary viewpoint, the text is quite excellent. The rhythm and rhyme work for me. (Again focusing just on the literary aspects of it.) There are some phrases that are just beautiful.
I did have a problem with the 'passing bread' phrase of the text. The idea of SHARING food may sound poetic and lovely. But with so many food sensitivities and allergies being present the idea seems unpractical and even dangerous.
I mentioned that this is in some ways an agenda-driven book. This happens, in part, because of the text. But mainly this is through the illustrations. The text states ALL are welcome. But it is the illustrations that reveal the many, many, many examples of all.
From a spiritual viewpoint, this one is slightly more iffy. Tolerance. It all depends on how you define--view--tolerance. Is tolerance about civility, respect, kindness, compassion, empathy, treating others the way you'd want to be treated? This view is the old school view of tolerance. It makes sense--on all levels--not to treat people with hate, with anger, with disrespect, with cruelty. Name-calling, finger-pointing, shouting, getting into someone's personal space--there is no good excuse for such behavior ever.
But there's a new view of tolerance hanging around and taking hold. All absolutes have been done away with except one: there are no absolutes; all ideas, all beliefs, all philosophies, all lifestyles, all worldviews, all choices are equally true and valid--even when they clash, even when they contradict one another. To criticize an idea, a belief, a philosophy, a lifestyle, a worldview is not acceptable ever.
Which kind of tolerance is the book promoting? I'm not sure. I'm really not.
That being said...in my opinion...school and school-related activities are not the time and place to battle out ideas, to have debates and discussions, to engage (civil or not) with those who may disagree with us. Especially elementary school. (The illustrations place this one in an elementary school.) It isn't a teacher's place to judge her students backgrounds. It isn't a parent's place to judge the backgrounds of other students. Indeed ALL should be welcome. Not just "welcome" but genuinely welcomed. (Just because school isn't an appropriate place doesn't mean that there isn't a time and place anywhere.)
Text: 4 out of 5
Illustrations: 2 out of 5
Total: 6 out of 10
© 2018 Becky Laney of
Young Readers