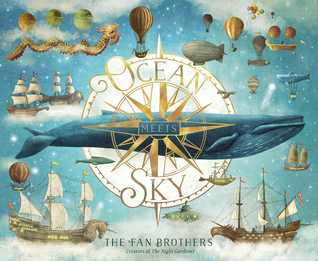 Ocean Meets Sky. Terry and Eric Fan. 2018. Simon & Schuster. 48 pages. [Source: Review copy]
First sentence: Finn lived by the sea, and the sea lived by him. "It's a good day for sailing," his grandfather would have said.
Premise/plot: On what would have been his grandfather's ninetieth birthday, a young boy dreams whimsically about the ocean meeting the sky. His grandfather was always telling stories about a magical place where the ocean met the sky.
My thoughts: If you love, love, love whimsical, fantastical books then Ocean Meets Sky might be a great fit for you and your little ones. If you prefer less whimsy and more reality, then maybe not so much. Most of this one is a boy's dream-journey to the place where the ocean meets the sky. If you're willing to dream with Finn, then you might enjoy the journey and be mesmerized by the detailed illustrations.
Ocean Meets Sky is not my kind of book, but it may be your kind of book. I wouldn't be surprised if it got some award love at some point for its illustrations.
Text: 3 out of 5
Illustrations: 3 out of 5
Total: 6 out of 10
© 2018 Becky Laney of
Young Readers